So it occurred to me that if the release of a new
Star Wars
movie isn't a big enough event to bring me back to LJ to write a real post, then nothing ever will be, and that would just be too depressing to let happen. Like most everyone I've adapted to the changing world of social media and gotten used to Tumblr being the main home of my fandoms, but there's still a lot I miss about the LJ format. :(
So yeah I saw a Star War and I have a lot of thoughts, I know you're shocked. (No spoilers till the cut.) My more reserved reaction the first time around was of relief and satisfaction, but after repeated viewings I think this is probably my third favorite
Star Wars
movie. I'm not going to bother talking much about the plot, which really plays it safe (though personally I found it kind of charming in its simplicity/familiarity) and is handled like an afterthought compared to the real work there was to do here, which was getting us to accept the new characters.
And the more I digest TFA, the more I think the things in it that work and are good are really,
really
good, for the most part. This has new characters who have overnight become some of my favorite original film characters, a general look and feel that is just right, and I think some of the best music John Williams has done for the series since 1980. This and
Mad Max: Fury Road
were two things I saw this year that made me hopeful that people in the industry may be starting to learn/remember how to make the kind of movies I love really well, not just serviceably. And it's super exciting that a generation of kids are now going to grow up with a version of the Wars that has a woman and two men of color as its main heroes.
Sure, this movie has flaws and some of the unavoidable baggage of what movies have become today (largely because of
Star Wars
, ironically). But those classic ones that I had to accept these new ones could never live up to also have flaws. Though it's weird to credit the success of a cultural phenomenon to something so seemingly subjective, I think the impact of these movies has always mostly lied in simply the way it makes people feel to watch them. And watching
The Force Awakens
made me feel a lot of the kind of joy that's missing from so much of pop culture these days. It was no religious experience, but I'd say the movie does somehow unthinkably manage to transcend the commercialism of the money-sucking empire this franchise is, and just does its thing. This is
Star Wars.
Thank God.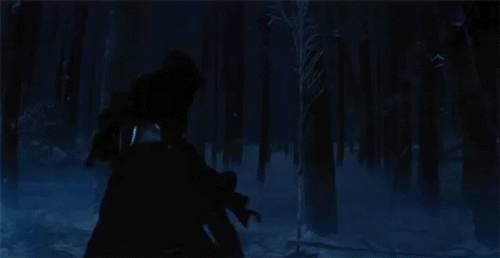 (
Collapse
)